Lanit-Tercom introduces Azerbaijan to Area9 Rhapsode
At the end of November, a Lanit-Tercom delegation visited the leading universities and IT companies in Azerbaijan. The trip was preceded by a meeting with Professor Adalat Muratov, rector at Azerbaijan State University of Economics, at EDCRUNCH, a conference centered around innovations in edutech, where Lanit-Tercom was presenting adaptive learning platform Area9 Rhapsode. The delegation included Lanit-Tercom president Professor Andrey Terekhov, CEO Igor Sarychev, and Marat Nemeshev, director of the integrated projects department. Throughout the quick but productive trip, the team met with the heads of companies and educational institutions, gave presentations on adaptive learning programs, and laid the groundwork for future cooperation.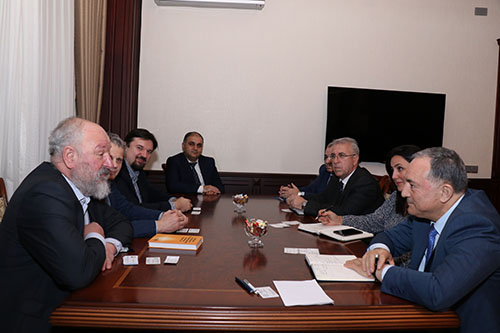 On the first day of the visit to UNEC, Professor Terekhov gave a presentation on the company's experience training future IT specialists at Saint Petersburg State University. The event was attended by department heads, the university faculty, IT teachers, and masters and doctoral students. The second day saw Professor Terekhov give a lecture on the history of graphic tech programming at Saint Petersburg State University to second- and third-year students in the Russian section. Marat Nemeshev also spoke on Area9 Rhapsode. As they sat through the variety of events, attendees found out more about adaptive learning, the biological model, and unconscious incompetence as well as best practices in the creation of adaptive courses. The meeting wrapped up with a discussion on how best to build a corporate learning center at UNEC Extern for Azerbaijani companies using Area9 Rhapsode.
One pleasant surprise for the delegation was that meetings with the heads of two other leading educational institutions in Azerbaijan were organized with the help of UNEC rector Adalat Muradov, both of which were interested in working together to roll out adaptive learning.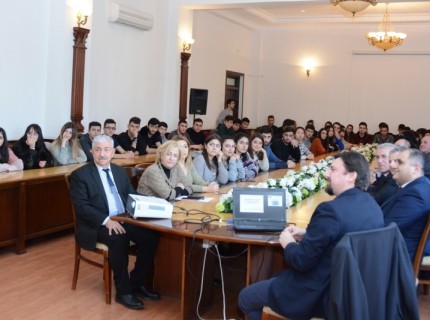 During their visit to Azerbaijan Technical University, the Lanit-Tercom team met with the university rector, Professor Vilayat Veliyev. There was also a meeting with Pro-rector on Academic Affairs Eldar Aslanov at Azerbaijani State Pedagogical University. And not only that, but the delegation also stopped by the office of Baku-based IT company Ultra, where negotiations took place regarding some opportunities for working together.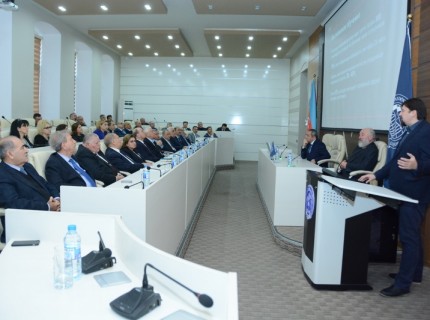 The trip to Azerbaijan demonstrated how interested local higher education and business is to bring in adaptive learning. Lanit-Tercom continues to push forward, planning partnerships in the country where the company will be able to utilize Area9 Rhapsode.